TGIF, right! The week just got better and c'mon on weekend. Spring is here and that makes the weekends so much better. I have been loving opening the windows when I get home from work to enjoy the fresh air. If your Spring hasn't arrived yet, I am sorry because I know we all ready for Mr. Winter to go away for awhile. I hope you at least have sunshine.
So….my favorites this week are:
1. Brooke from Pumps and Pushups featured this look. Not only does she look gorgeous but every piece is perfectly style together. I mean that dress and those shoes! What's not to love. If you have stopped by Pumps and Push-ups you should. Brooke has a fabulous blog and she is a sweetheart.
2. Whitney! You rocked this skirt. You can read it here. So, I have known Whitney for several years. We have blogged together for most of that time. This year we have both had the opportunity to receive clothing from Zaful and Rosegal. We decided to pick items for each other to style. I was so happy to see her in this skirt that I chose for her. I love it on her!
3. Shelly at The Queen in Between had an awesome Stitch Fix Review. Not only did she receive fabulous pieces but she styled them beautifully. I thought I would share my two favorite looks. You can read it here and pick a fave too!
2. Last week I wrote about pink in this post. I thought it would be fun to add some bright pink lipstick to my life. So on a whim when I was at Target, I picked up this from NYX. I have used the liquid suede before and really like how long it lasts. And pink is changing my life. Enough said…you need some too, friend. You can find it here. I've been wearing it about everyday and it makes me feel springy!
5. New lipstick is helping me with Spring and a few new items of clothing are helping too. I adore this top from J. Crew Factory. I probably won't buy it because I don't need anymore stripes but I love it just the same. here. Maybe you'll buy it and enjoy it for me. It could happen!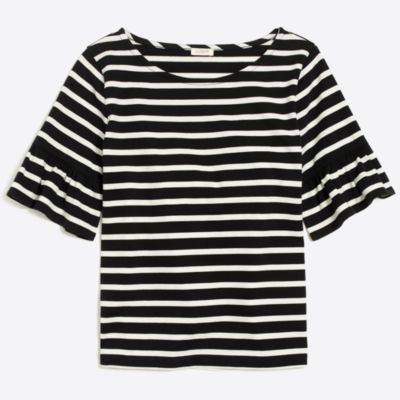 Friends, I hope your week has been sweet and I hope you're weekend will be filled with love and fun. Be blessed!
Carrie ~ xoxox
Linking up here.
Save
Save
Save
Save
Save
Save
Save